Short Bio
*Interested in having me visit your school (virtually or in person)? Contact me for pricing and other details.*
Emma Bland Smith is the award-winning author of Journey: Based on the True Story of OR7, the Most Famous Wolf in the West, as well as other fiction and nonfiction books for children. Many of Emma's books include animals—wolves, dogs, pigs, even alligators! Emma is a librarian and author and lives in San Francisco with her husband, two kids, dog, and cat—but no wolf, pig, or alligator. Visit her online at emmabsmith.com and on Twitter at @emmablandsmith.
She is represented by Essie White of Storm Literary Agency.
Longer (and More Exciting!) Bio
I am a mom, librarian, and writer living in my hometown of San Francisco. My husband, Alex, and I have two kids, Everett (16) and Cate (13). Here we are with our dog, Piper, and cat, Tim: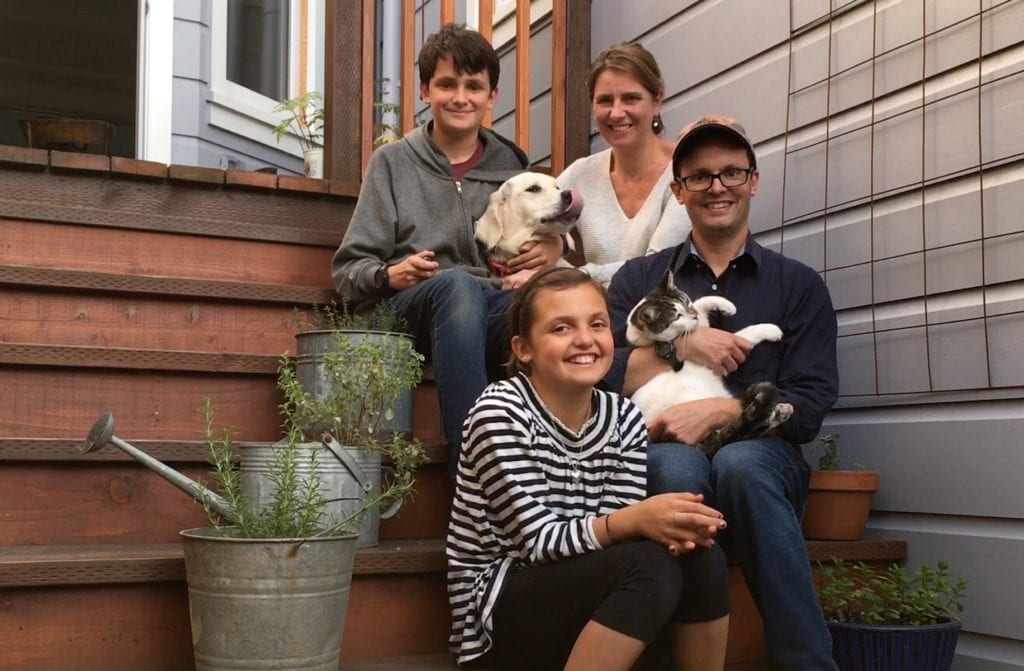 I was born in Scotland, grew up in San Francisco, and have lived in New York, Santa Barbara, and Paris. Now I'm back home, living a block away from my childhood house.
My first picture book, Journey: Based on the True Story of OR7, the Most Famous Wolf in the West, was published by Little Bigfoot Books in 2016. Journey was featured on NPR and the Huffington Post and is the winner of Bank Street College's Cook Prize and Northland College's SONWA award, as well as a finalist for SCBWI's Crystal Kite award and for the Washington State Book Awards.
My other books include the Maddy McGuire, CEO chapter books (2018), To Live on an Island (2019), the Gavin McNally's Year off chapter books (2019), The Pig War: How a Porcine Tragedy Taught England and America to Share (2020), Odin: Dog Hero of the Fires (2020), and Claude: The White Alligator of the California Academy of Sciences (2020). (See more on the "Books" page.)
In 2022 I will welcome two more nonfiction picture book biographies: The Gardener of Alcatraz: A True Story and Mr. McCloskey's Marvelous Mallards: The Making of Make Way for Ducklings. How Science Saved the Eiffel Tower and The Fabulous Fannie Farmer: Kitchen Scientist and America's Cook are coming in 2023 and beyond.
Formerly a French teacher and magazine editor, today I work part-time as a public librarian and fill the rest of my days walking our dog, failing to help with middle school math homework, protecting my lettuce from the slugs, watching British murder mysteries, and organizing the books in my Little Free Library. And writing.
Some of my favorite picture books, and ones that contributed to me becoming an author: Extra Yarn, by Mac Barnett; A Good Day, by Kevin Henkes; Blueberries for Sal, by Robert McCloskey; Library Lion, by Michelle Knudsen; and All the World, by Liz Garton Scanlon.
I am represented by Storm Literary Agency. Contact me directly at emmasmithsf@yahoo.com.
Some Random Facts
My kids are great artists! My son drew the redwood tree on my home page, as well as the bird in the header. My daughter drew the tea cup at the bottom of the site.

I have a big yellow dog who likes to run on the beach (and who appears on the cover of one of my books!).

I'm on a mission to perfect a homemade pie crust. My family approves this mission.
I've known my husband since preschool.
The best thing about writing books is getting to visit lots of cool places for research, like Alcatraz.

Favorite smells: baking bread, sweet peas in the garden, pine trees in the Sierra, a fire in the fireplace.
You know when the Christmas decorations come out in October, and people get all outraged? I so love it. Bring it on.
I like old, creaky houses, foggy weather, climbing roses, baking chocolate chips cookies (no raisins!), drinking tea with my daughter from my grandmother's antique tea cups, letting my son teach me how to play video games, getting packages (these new jeans will the perfect ones, for sure!), going to the pumpkin patch on warm fall afternoons, and making a bûche de Noel with my kids every Christmas Eve.

I've learned that family and good friends are the most valuable things in the world. Also, strong coffee. (Luckily, I have all three.)